Services
Farrell Realty and Insurance Agency Inc
Auto Insurance
Auto Insurance
We offer a variety of auto insurance with competitive premiums for all your vehicles (including trailers, campers, & motorhomes). Coverages include:

Liability Coverage - Bodily Injury and Property Damage
Medical Payments Coverage
Other Than Collision Coverage (Comprehensive)
Collision Coverage
Broad Form Collision Coverage / Parked Car Coverage
Uninsured and Underinsured Motorists Coverage
Uninsured Motorists Property Damage Coverage
Newly Acquired Vehicle Coverage
Towing and Labor Coverage
Accidental Death Benefit
Loan/Lease Gap Coverage
Repair or Replacement Coverage (Collision Only)
Progressive Insurance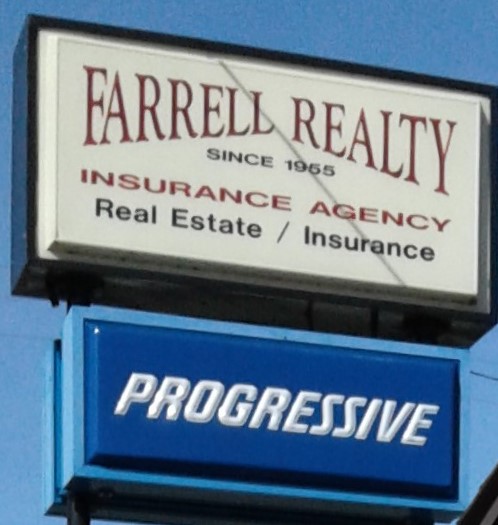 What We Offer:
Auto,
Snapshot,
Boat/PWC,
Motorcycle,
ATV,
Dirt Bike,
Moped/Scooter,
Snowmobile,
RV/Trailer,
Golf Cart,
Segway,
Commercial Auto www.progressive.com
Boat Insurance
We offer coverage for boats that are used for personal pleasure up to 40 feet in length and $100,000 value. Coverages include: Property, Liability, and Uninsured Boaters and Underinsured Boaters coverage for all covered boats.
Home Insurance
Home Insurance
We offer the following types of coverage for your home:

Homeowners
Condominium unit-owner's insurance
Renters insurance

Additional coverages available include Replacement cost for Dwelling and Personal Property
Earthquake coverage
Liability coverage for a seasonal residence or a residence rented to others
Incidental business exposure in home
Higher limits coverage for back-up of sewer or drains
Waterbed liability (for tenants)
Inland Marine coverage for scheduled items such as jewelry, fine arts, guns and collectibles Liability & Physical Damage for ATVs, Golf Carts

Please contact us for more information.
Life Insurance
Life Insurance